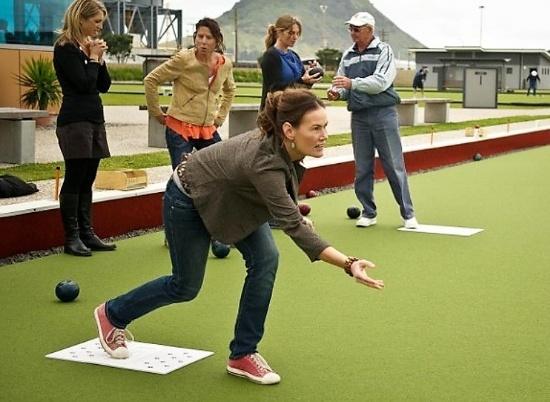 Twilight Bowls
Every Summer the club runs a "Twilight Bowls Season" on Tuesday evenings, that commences mid October and ends late March of the following year, with a three or four week break over the Christmas New Year period.
Bowls start at 6:00 pm so come on down from 5:30 pm to register your team, check out the draw and enjoy the sausage sizzle before the bowls gets underway.
Open to both club and casual bowlers it is a fun evening including an Organised Competition, Sausage Sizzle, Bar Discount, Team and Lucky Draw Prizes and raffles, all for $10.00 per player per evening. We have over 60 set of bowls available for use for those who don't have there own.
Three players per team, so get a team together of your friends, family or workmates and enter a team. If your team is a player short, contact us and we can help you get a team together. It is often good to have more than three in your registered team, as everyone wont be available every Tuesday.
To register a team, or you have any questions, phone and leave a message on 07 5753838 or contact us.
2018-19 Season
This year Twilight Bowls starts on Tuesday 23rd October with the final evening before Christmas being Tuesday 18th December.
We recommence after Christmas on Tuesday 15th January and the final evening for the season being Tuesday 19th March. We had twenty two teams registered and playing prior to Christmas. Team names include, CHUR Bowls, Bowls of Steel, Arataki Attackers, The Pill Poppers, Gutter Punks, Bowls Busters and many more. Could you give them a run for their money??
This years format will be different to prior years as we introduce the Bowls NZ short form of the game "Bowls3Five", their equivalent of T20 cricket and similar to the event televised live on Sky Sport.
Register your team or interest, get down to the club give it a go and enjoy the fun.
Support those who Support Us: