Welcome to Bowls Mount Maunganui
Located only minutes from Downtown Mount and one of the country's most popular beach and holiday locations Bowls Mt Maunganui is the ideal club for bowlers of all levels, boasting two grass and one artificial green, with plans well advanced to cover the artificial green, enabling our members and casual bowlers to enjoy their bowls all year round.
In conjunction with Club Mt Maunganui bowlers have access to a licensed restaurant and bar, gaming and TAB facilities, snooker and pool tables and other indoor activities for their enjoyment.
From bowlers who enjoy twilight bowls or a roll up on club days, to those who wish to play competitively at the highest level, Bowls Mt Maunganui caters for all your bowling needs.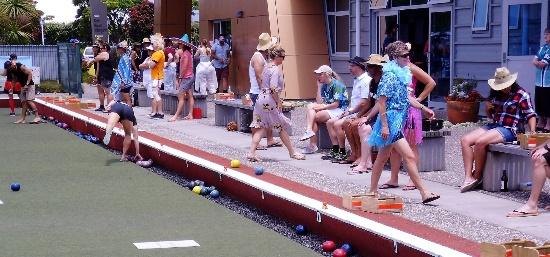 Corporate Events, Greens Hire and Casual Bowls

We have greens available for hire, to cater for all your Corporate Events, Staff and Christmas Functions, and Team Building along with fun days with your family, friends or workmates.
In conjunction with Club Mt Maunganui, we provide a full range of services to satisfy all your needs including Green and Bowls Hire, Licensed Bar, Snacks and a fully licensed restaurant.
For further information check out, Greens Hire, contact us or phone 07 5753838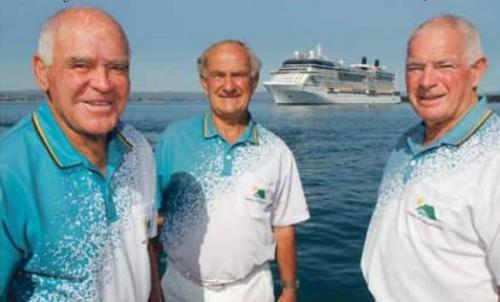 We Welcome Visitors from "All around the World"

Every year we host overseas visitors, who visit our shores whilst enjoying a cruise around New Zealand. As part of their time at the Mount, some of those visitors enjoy the camaraderie and fellowship of our club members.
We also host visitors for our well supported Annual Rugby Tournament, Teachers Games, Blind Bowls, RSA and Chartered Club Tournaments.   
15th April 2019
CENTRE MEN's 2019 CHAMPION OF CHAMPION SINGLES
Congratulations to Steve Beel who won this event played over the weekend, defeating Dan Dickison from Tauranga Domain in the final 21-19.  This is Steve's 21st Bay of Plenty title and comes on top of 13 previously won in Dunedin.
New Zealand National Fours 4th March 2019
Congratulations to the team of Merv Gibbons, John Gray, Phil Morgan & Steve Beel (s) who reached the quarter finals of this event.  No doubt they would like to have gone further but quarter finals in a field of 82 teams representing the cream of New Zealand Men's bowls is a proud achievement.

Congratulations to Angela Stephen who was a member of a composite team skipped by Debbie White which made the semi-finals. The team went down 19-15 to a strong team where at least three of the team were well experienced international players.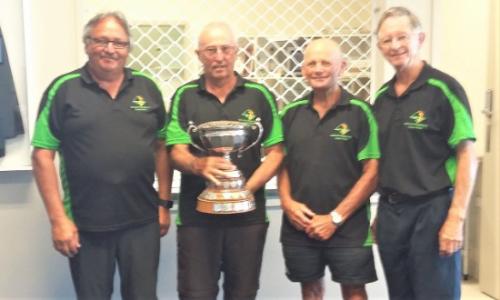 18th February 2019
Congratulations to Reg Archer,  John Simons (L), Alan Jones & Phil Morgan (s)    who won the New Zealand Chartered Clubs Men's Fours title last Friday after a week of qualifying and post section play.  Playing against a Whangarei team they needed three shots to draw on the last end or four to win.  When Phil was on the mat to play his first bowl his team had already given him three shots, he drew another and then another with his last bowl for five shots and the win, the opposing team unable to change the head.  A great performance in a strong field.
10 December 2018
CENTRE MEN'S PAIRS
While they did not pick up the silverware, our teams did well over the weekend in this event with four teams making the quarter finals, Kevin Maxfield & Nathan Arlidge, Ian Newland & Dean Manson, Nick Tomsett & Andre Hudson, Steve Beel & Neil Wilson.  Steve & Neil played  Nick and Andre in a close quarter final and came out the winners 16-13. Kevin & Nathan, seeking to win the title for the third year in a row, very nearly made it, going down 15-14 in their semi-final. Steve & Neil, who won our Club Pairs title,  also went down in their semi-final.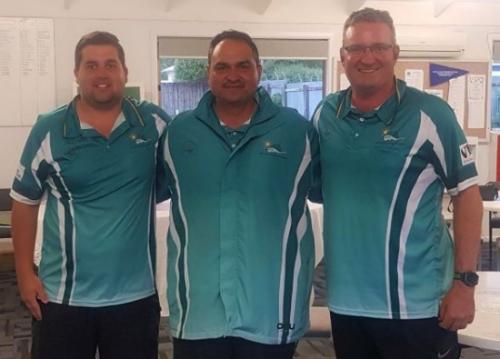 12 November 2018

CENTRE TWO BOWLS TRIPLES
A great result for the Mount in the weekend with three teams in the last four in the men's event.  The team of John Simons (L), Maurice Hickey & John Simons (R) reached the semi-finals where they were defeated by Steve Beel, John Gray & Neil Wilson with Steve Beel apparently in outstanding form.  In the other semi-final the team of Andre Hudson, Nick Tomsett & Cliff Webber had a close win over Dan Dickison from  the Tauranga Club.  In the final the Hudson team came out of the blocks quickly to lead 10-2 after 7 ends and 13-5 after 11 ends.  The Beel team then  won the next four ends and lead 14-13 going in to the final end where the Hudson team picked up two shots to emerge the winner 15-14. This was a tremendous performance by Andre, Nick & Cliff who, in winning the event, successfully defended the title they won last year.                                                                    
Our Only women's team in the event of Margaret Hickey, Meredith Pottage and Gloria Duffin were successful qualifiers.
It's all Gold for Nick !!
Special Congratulations go to Nick Tomsett who earned his Centre Gold Star in being part of the above team, that won the Men's Open Two Bowl Triples.
Support those who Support Us: